I started reading historical romance young. By the time I was ten I was familiar with the
chivalry of Freddy Standen
and the wicked allure of the
Duke of Avon
.
Because when I was a lass, I didn't know there
was
a historical romance world outside of
Georgette Heyer
. In all fairness, you can't do much better than start with Heyer. She's the Grand Dame, after all, the Eve in the historical romance garden. All us history heads are her offspring. She's the ultimate Regency Diva.
But.
There's more.
Roll on a couple of decades and I've lost count of the number of historical romances I've read, good, bad and ugly. From bodice rippers to heartfelt emotion, from light and fluffy to gritty suspense.
I've branched out too. To modern (not my great love). To paranormal (I'll go a warlock or two). But my heart belongs to historical and historical romance's heartland is the Regency era.
Or is it?
It seems we have an unending appetite for empire line frocks and Darcy-esque heroes. Trends come and go, but Regency remains strong.
Except I'm kind of bored of it.
I like the Regency. I like the fact it's the birth of the modern era, where folks have more in common with us today but with better clothes and sparkly musicales. It's just that sometimes it feels kind of... smug.
But
Victorians
on the other hand....
Gas lights, smog, factories belching out smoke, the rise of the industrial classes and emergence of a new type of romantic hero. Think
Lisa Kleypas
' Bow Street men - tough, enterprising and smart. Or
Amanda Quick
's Arcane Society, making the most of the shadowy streets. Meredith Duran's
Duke of Shadows
sweeps us out to India, Laura Kinsale's
The Shadow and the Star
takes us to Hawaii.
The Victorian era is all about expansion and conflict, trade and factories, people who dress their table legs in case they are thought lewd but read naughty books in the gaslight. It's about cotton mills and urban sprawl, street urchins and sword sticks, opium dens and decorum. And let's not forget - a woman was in charge.
Oh and the frocks. If I could die and be recreated as a frock, it would be a House of Worth gown.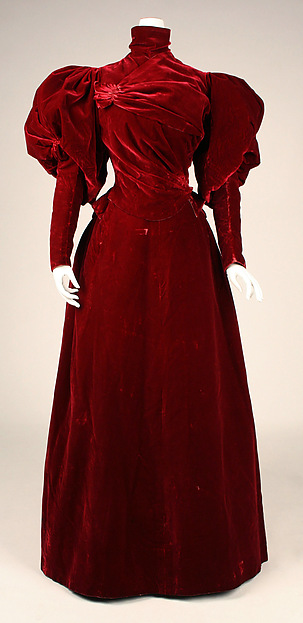 So you can save your Mr Darcy's, I'm for John Thornton all the way. And just in case you missed the clip from
North and South
on Aimee's blog post last week, here it is again:
(but I'm still writing a Regency romance, oops)
(and it has a ball)
(and an aristocrat)
(DAMN!)
Meg
Tweet me! @charitygirlblog